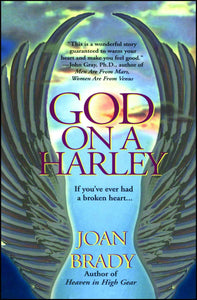 God on a Harley
Author: Joan Brady
Edition: Reprint
Format: Kindle eBook
Number Of Pages: 176
Publisher: Atria Books
Release Date: 29-09-2015
Details: At thirty-seven, Christine Moore had a world-class case of burnout: frustrating career, a few dead-end romances, and a less-than-perfect figure. Little did she know her life was about to change completely....

"Come out of the shadows, Christine. You've spent far too much time hiding in shadows." The man who spoke to her was gorgeous -- long sable hair, faded T-shirt, black motorcycle jacket -- all astride a 1340cc Harley-Davidson, mysteriously parked on a moonlit beach near her home. Christine was inexplicably drawn to this stranger -- who seemed to know everything about her -- and as a sweet serenity settled over her, she surrendered to his words: "We have a lot of work to do, but it won't feel like work. It will feel quite wonderful."

So begins Christine's journey, a voyage of the spirit that frees her to appreciate each precious moment of life -- and reveals to her six wondrous precepts that lead to the deepest peace and fulfillment we can ever know. For every woman whose heart has ever been broken, but who believes in her soul that real happiness can be found, God On A Harley has arrived. Need a lift?
Languages: English
Dr. Susan Roets is a participant in the Amazon Services LLC Associates Program, an affiliate advertising program designed to provide a means for sites to earn advertising fees by advertising and linking to drsusanroets.com (my-happy-student.myshopify.com)