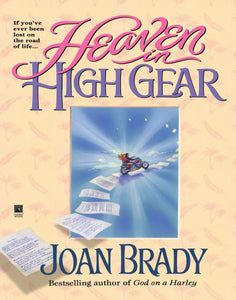 Heaven in High Gear
Author: Joan Brady
Brand: Atria Books
Edition: Reprint
Features:
Used Book in Good Condition
Genre: FICTION
Number Of Pages: 224
Publisher: Atria Books
Release Date: 01-12-1998
Details: Her cool sexy demeanor betrays nothing, but twenty-nine-year-old Heather Hurley suffers from major anxiety attacks -- her life in L.A. isn't going exactly as planned. Now, in a bar near her hometown on the Jersey shore, her future is about to change forever....
"Your panic is your friend. It loves you and it's just trying to protect you.
The man who spoke to her was gorgeous: long dusky hair, faded jeans and a black motorcycle jacket. And before Heather could brush him off, his arm touched hers and the result was electric: she felt her fear and anxiety drop away. Who was this guy? "I am who you think I am." Oh, God. "That's very good. It's about time we straightened out a few things in your life." His voice was like a sanctuary, a safe and lovely haven, and she felt enveloped by a cloud of serenity.
So begins Heather's journey toward discovering her life as it was meant to be: filled with the true meaning of love and the magic of realizing her dreams. For every woman who longs to embrace her true self, heaven in high gear is proof that you can always find your way, as long as you trust your heart.
EAN: 9780671007737
Package Dimensions: 7.4 x 5.0 x 0.6 inches
Languages: English
Dr. Susan Roets is a participant in the Amazon Services LLC Associates Program, an affiliate advertising program designed to provide a means for sites to earn advertising fees by advertising and linking to drsusanroets.com (my-happy-student.myshopify.com)