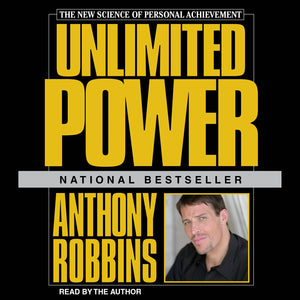 Unlimited Power
Author: Anthony Robbins
Format: Abridged
Publisher: Simon & Schuster Audio
Release Date: 12-02-2007
Details: Yes, you can do, have, achieve, and create anything you want out of life. Anthony Robbins has proved it. Robbins, the undisputed master of the magic of mind power, shows you in this audio program how to harness yours. He demonstrates passionately and eloquently that whatever you think will be, that your state of mind determines what you can and can't do, and that all successful results can be modeled and duplicated. His enthusiasm is contagious as he shows you how to:
Reprogram your mind in minutes to eliminate fears and phobias

Fuel your body with spectacular health and energy

Dramatically improve your interpersonal relationships

Become a persuasive communicator and create instant rapport with anyone you meet

Use the success of others to remodel yourself

Discover the five keys to wealth and happiness

Master the ultimate success formula


Robbins calls Unlimited Power the new science of personal achievement. You'll call it the best thing that ever happened to you.
Languages: English
Dr. Susan Roets is a participant in the Amazon Services LLC Associates Program, an affiliate advertising program designed to provide a means for sites to earn advertising fees by advertising and linking to drsusanroets.com (my-happy-student.myshopify.com)